On May 8, 1995, Teresa Teng, one of the most famous singers of the 20th century, passed away. Her funeral was held in Taipei, as a state one, and it is said that over 30,000 fans from all over the world came to bid farewell. Billboard Magazine, The New York Times, and other publications widely covered the news of her passing, and various memorial events are held in various places every year on the anniversary of her death.
Teresa, selected as one of the seven greatest female singers in the world by Time magazine before her death, is a precious existence that continues to be loved by her devoted fans even today.
Why Teresa Teng continues to be loved
A Melancholy Voice Like Speaking to You
She debuted as a singer in Taiwan at the age of 14 and as an actress at 16. Her popularity spread to Singapore, Thailand, and Malaysia, and she released a record in Hong Kong at age 18, making her one of Asia's top stars in her teens. Minoru Funaki, then with Polydor Records, was quick to notice her popularity in Asia which led her to debut as a singer in Japan. She was 21 years old.
She made no compromises when singing songs in unfamiliar Japanese. She repeatedly asked her lyricists and producers about the meaning of the words of the lyrics, and she proceeded with the recording only after she understood the meaning of them.
Lyricist Toyohisa Araki, who wrote the lyrics to "Tsugunai" and other her songs, praised her as a singer who could express the Japanese language with great care and beauty, a way of speaking that Japanese people have forgotten.
Her voice, full of melancholy that appeals to our hearts, may have been fostered by her own tireless efforts and hardships in her life. However, it is also the result of the exquisite match between her voice and the unique melancholy of Japanese Enka and Pops that has enabled her to leave behind so many masterpieces.
Multilingual in 7 Languages
As mentioned above, Teresa was a singer who took lyrics very seriously. Her style of singing as if she were speaking to the audience with a deep understanding of the lyrics has been successful in making her songs accessible to many people, transcending the barriers of genre and language.
In addition, she was fluent in seven languages (Mandarin, Fujian, Cantonese, English, Japanese, French, and Thai), and had expanded her activities by creating a wide variety of songs while singing original songs in other languages and covering Western music. And during her career as a singer, she toured in many countries while moving her base to the United States and Paris, gaining worldwide popularity beyond Asia.
©Youtube, 時の流れに身を任せ / Toki-no-Nagare-ni Mi-wo-Makase / 我只在乎你
Songs that Suit the Night Bar's Streets
Teresa's popularity in Japan is clearly evidenced by the number of requests for her songs at karaoke. It is said that even at the time of her debut in Japan, her popularity had been boosted by that many hostesses at "CLUBs" and "SNACK BARs" sang her songs at karaoke, and it is amazing that this situation has not changed much even today.
Teresa's top karaoke ranking is dominated by the four songs introduced by the video in this article. (2022 Researched by JOYSOUND)
#1. Toki-no Nagare-ni Mi-wo Makase (我只在乎你)
#2. Tsugunai (償還)
#3. Wakare-no Yokan (襟曲)
#4. Aijin (愛人)
What these songs have in common is that their themes are "Love and Adultery". Most of Japan's adultery songs were born in the 1970-80's, and her songs are no different.
Japan has always had a strong custom of "men go to work and women stay at home." And this era was during the rapid economic growth of Japan, which increased men's incomes year by year. As a result, they frequently went out drinking at night bar's streets, so a culture of adultery began to exist there.
The lyrics of Teresa's songs reveal that many of them describe the feelings of women in these adulteries. And there were many unfortunate situations for them they put their lover's needs before their own, did everything for him, and in some cases, voluntarily withdrew themselves from the relationship.
Teresa sang these songs in emotion as if she were shaking off her own unfortunate. We think her appearance suited the adult atmosphere that haunts the night bar's streets.
Although already popular, Teresa's works were banned in 1980's China because of lyrics about adultery and political messages in her works. After the ban was finally lifted, her popularity was rekindled and she contemplated a full-fledged activity in China, but that plan was never realized.
She chose to stand against the 1989 Tiananmen Square protests not as a top star but as a woman who supported the democracy. She appeared at a protest rally in Hong Kong wearing a potholder with the words "Long Live Democracy" written on it, that imaged a woman fighter for freedom.
In the same year, she appeared in a mourning black dress at a program celebrating the 15th anniversary of her debut in Japan. She performed the song "Sad Freedom" and said, "I am Chinese" and "I want to be free. I believe that all people should be free, too," she said in her famous speech. Many of her fans must have been encouraged and inspired not only by her songs but also by her attitude and way of life itself.
©Youtube, Wakare-no Yokan / 襟曲
Teresa Teng's Recommended 3 Albums
Teresa Teng, despite her overflowing talent, suffered a strange fate at the mercy of history. She has released about 260 songs in Japanese and more than 1,000 songs in Chinese, and her total sales are said to be well over 100 million copies, and some used records are still soaring in Japan.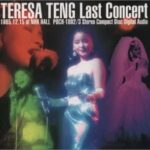 Teresa Teng / Last Concert
Media Type: CD (2 Discs)
Label/Distributor: Universal Music
Availability: CDJapan

This is the long-awaited concert album of the recital held at NHK Hall on December 15, 1985, recorded almost in the same order of performance and singing.
It also includes a talk show that conveys her charm and humanity.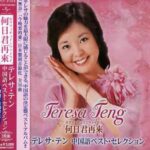 Teresa Teng: Chinese Best Collection
Media Type: CD (2 Discs)
Label/Distributor: Universal Music
Availability: CDJapan

Because of her native language, it is perhaps the songs in Chinese that can offer the most appealing experience of Teresa Teng. This album consists of 2 discs, the first containing Chinese originals and the second containing Chinese covers of Teresa's own songs and other Japanese songs.
#3: Japanese "Enka" Cover Album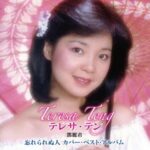 Teresa Teng: Cover Best Album "Wasurerarenu-Hito"
Media Type: CD
Label/Distributor: Universal Music
Songs: 19
Availability: CDJapan

The singer whom Teresa Teng had continued to admire is Hibari Misora, who is the only singer in Japan to receive the National Honor Award.
She is said to have covered more than 70 Japanese Enka songs, and this album includes 19 carefully selected songs, such as Hibari Misora's classic "Kawa-no Nagare-no Youni."