Kabuki On Demand, the official paid video distribution service for Kabuki, has begun distribution to overseas markets on 1st  Nov. 2022. The first distribution is scheduled to 9 regions, Australia, Canada, France, Germany, Italy, Spain, Taiwan, the U.K, and the U.S.A.
KABUKI: a Wonder of Japanese Culture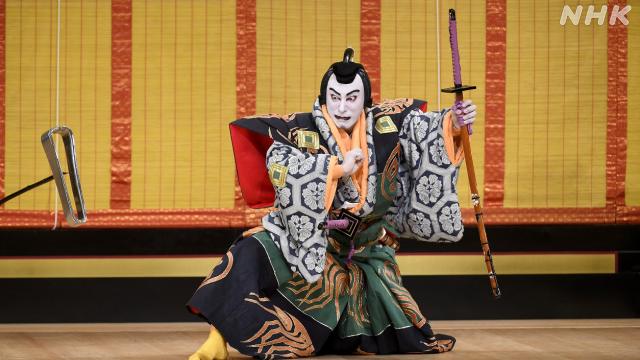 the Intangible Cultural Heritage
Kabuki is a form of Japanese theatre fostered during the Edo period and is known as one of Japan's three major national theatres along with Noh theatre and Ningyo-Joruri (puppet theatre), which were registered as Japan's first intangible cultural heritage in 2008.
This is derived from the word 'kabuku', which refers to a preference for flamboyant costumes, unusual deformities, and out-of-the-ordinary behavior, and they, called Kabuki-mono, appeared frequently during the Warring States period and the early Edo period. Their unique dance, which incorporated their innovative motions and flamboyant costumes, became popular in Kyoto during the Keicho-era(1596-1615), and this has led to today's Kabuki.
The few Culture that Male play Female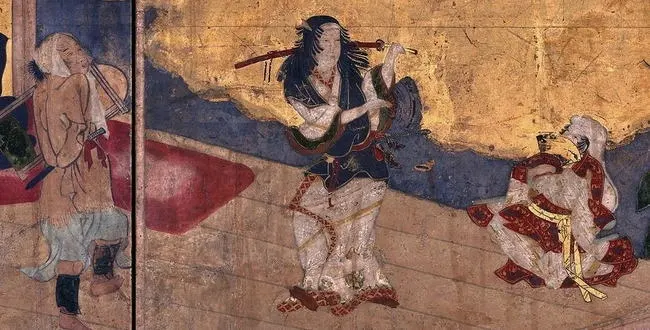 One feature of Kabuki is the style in which males play females, known as Onna-Gata(Oyama).
Originally, it is said that its founding was a dance by a female, Izumo-no-Okuni, which was characterized by cross-dressing, with her dressed as a man and her husband dressed as a woman playing sexual intensively. This singular pleasure excited the audience, which sometimes resulted in sexual involvement with the performers. This dance by Okuni, so-called "women's kabuki," quickly became popular in Kyoto and then spread to other parts of Japan.
In 1629, because of its morals, the Edo Shogunate restricted females' kabuki because of its morals. This measure encouraged males to play females' roles in kabuki, which is the origin of "Onna-gata".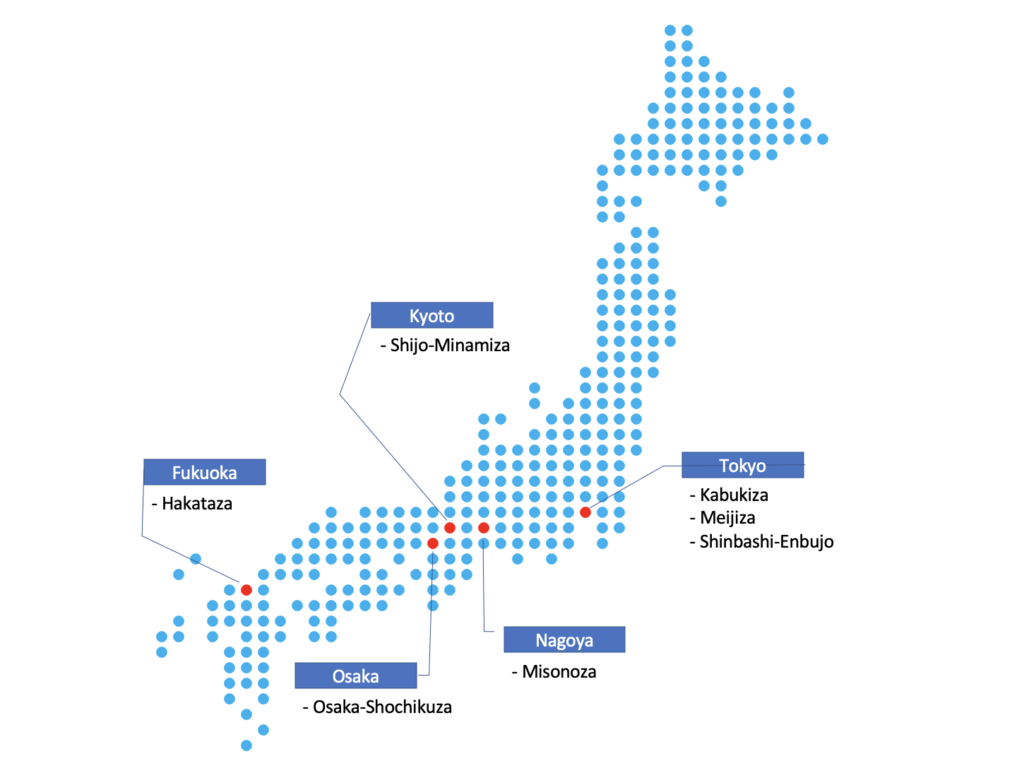 Kabuki theatres in Japan are mainly located in metropolis including Tokyo, Nagoya, Osaka, Kyoto,  and Fukuoka.
Today, most of the production and entertainment of Kabuki, a world-class traditional Japanese performing art, is handled by a single private company, Shochiku(松竹).
This company was founded in 1895 by twins Matsujiro Usui(臼井 松次郎) and Takejiro Otani(大谷 竹次郎), who were inspired by the performance in 1890 of 9th Ichikawa Danjuro and 1st Nakamura Tanjiro I at the Gion Kan in Kyoto, and broke away from their sales staff in theatres including the Gion Kan and started managing themselves.
And, they achieved numerous public entertainment successes, and as a result, even acquired management rights to Kyoto's oldest theater, the Minamiza, and to the Kabukiza, which was one of the most famous theatres in Japan.
Today, they are operating Kabukiza, Minamiza, Osaka-Shochikuza,  and Shinbashi-Enbujo as Kabuki theatres.
"The Japanese Kabuki Theatre is a Traveling Embassy"
This is a well-known phrase as a significance of Kabuki performance overseas that was expressed by a local review in Australia in 1978.
It can be said that Kabuki is an unusually open art in traditional Japanese performing ones. A number of successful performances, such as U.S.S.R in 1928 and Beijing in 2017 for the 45th anniversary of the normalization of diplomatic relations between Japan and China, have been greeted with surprises and praises for their unique performances and aesthetics and have played a major role in international exchange through the aspect of culture, which is separate from politics and economics.
Today, the purpose of its overseas is not only to introduce Kabuki as classical art but also to take the approach of introducing modern Kabuki itself, such as the overseas performance of kabuki newcomer "Heisei-Nakamuraza", Las Vegas performance with Kabuki localization in 2015, and Kabuki Costume Exhibition in Portland.
Kabuki Streaming Service "MIRAIL"
On 1st Nov. 2022, the official video service "Kabuki On Demand" has been launched by Shochiku for overseas distribution.
This service, distributing videos of past Kabuki stage performances, talk events, and other events, has been launched in 2020 for only Japan and received favorable reviews.
Kabuki has been originally a popular event for tourists coming to Japan from abroad, but the immigration regulation by Covid-19 pandemic starting in 2020 has made demands for online distribution more increasing.
The first three performances are available as below, all with English subtitles and English sub-speakers. 
– Pulling the Carriage Apart
Umeomaru and his triplet brother, Sakuramaru, try to get revenge on Fujiwara no Shihei who falsely accused Umeomaru's lord, Kan Shojo of treason. However, they are confronted by their other brother, Matsuomaru, who is one of Shihei's retainers. The energetic performance of Umeomaru is a showcase for the bombastic 'aragoto' style of acting.
– The Five Thieves
A beautiful woman is suspected of shoplifting and is beaten. When it is proved that she was not stealing, her servant demands compensation. However, a samurai who happens to be present uncovers her ruse and reveals that the woman is actually a man. The former 'woman' and her accomplice are, in fact, Benten Kozō and Nangō Rikimaru, two members of the same infamous gang of thieves. Even the samurai who supposedly exposed their plot turns out to be none other than Nippon Daemon, the head of this gang. Finally, the gang is hunted down by officers and when they are surrounded, the five gang members remain defiant, delivering elaborate rhythmic speeches dressed in their finest kimono and accompanied by beautiful music.
– Heron Maiden(Sagi Musume)
From a white heron to a coquettish girl, to a woman seducing her lover and hellish betrayal, Heron Maiden is one of the most challenging pure dance roles in Kabuki Theatre. With 15 musicians on stage, and dramatic instant costume changes amid swirling snow, the popular Heron Maiden is only performed by a star Onnagata (male actors specializing in female roles). From his first bird-like steps to his expressive fingers, this is Bando Tamasaburo's signature piece.