In Japan, many kilns have existed since ancient times, producing unique ceramics and porcelain that make the most of the local soil. In modern times, they have also blended cultures from other countries, making themselves even more fascinating to look at. In this post, we will describe the top 3 Japanese luxury teaware selected by BLUE SELECT in the ceramics section.
Porcelain: FUKAGAWA SEIJI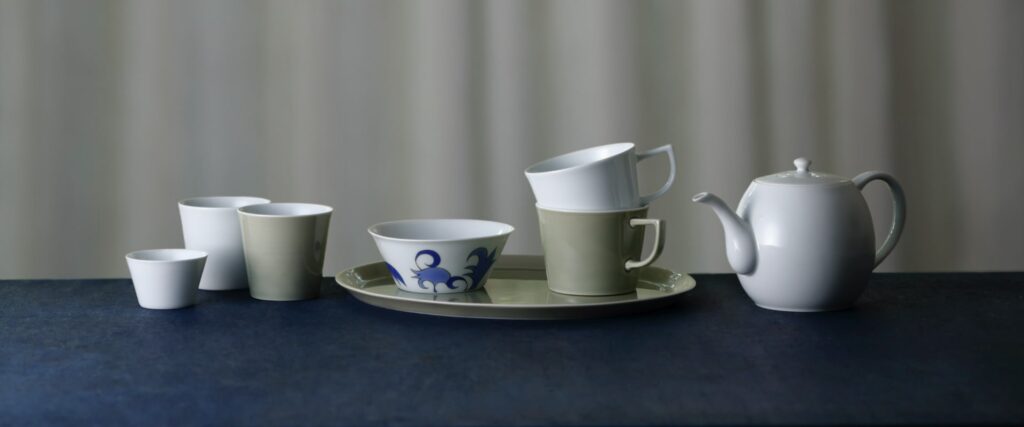 In 1616, The first porcelain in Japan was made in the Arita-City of Saga Prefecture. During Hideyoshi Toyotomi, the top leader of Japan, invading to Korea, the lord of the Nabeshima Clan brought back from Korea to Japan potters, who discovered ceramic stones, high-quality raw material for porcelain at Mt.Izumi in Arita, so they began to produce porcelains. "Imari-ware" porcelain, loved by European royalty and aristocracy during the Edo period, was made here and exported.
The Fukagawa family has been engaged in the kiln firing business in Arita for generations since around 1650. In 1894, The Fukagawa Seiji was established by Chuji Fukagawa, who had often traveled to Europe before the kiln's opening and witnessed the rise of Meissen in Germany and other potteries in various countries, and he began to aim for "the best pottery making in the world". He then added advanced technology imported from Europe to the traditional techniques of Arita and pursued his own unique design that expressed the Japanese aesthetic.
Chuji was awarded a gold medal at the Paris Exposition of 1900 for his "Large Vase", which was created with extremely high decorative techniques. He continued to win prizes at the World Expositions in various countries, attracting international attention. This led to the opening of distributors in London, Paris, Hamburg, Milan, Brussels, and other cities through the Watt Trading Company in Birmingham, to introduce the appeal of pottery to the world.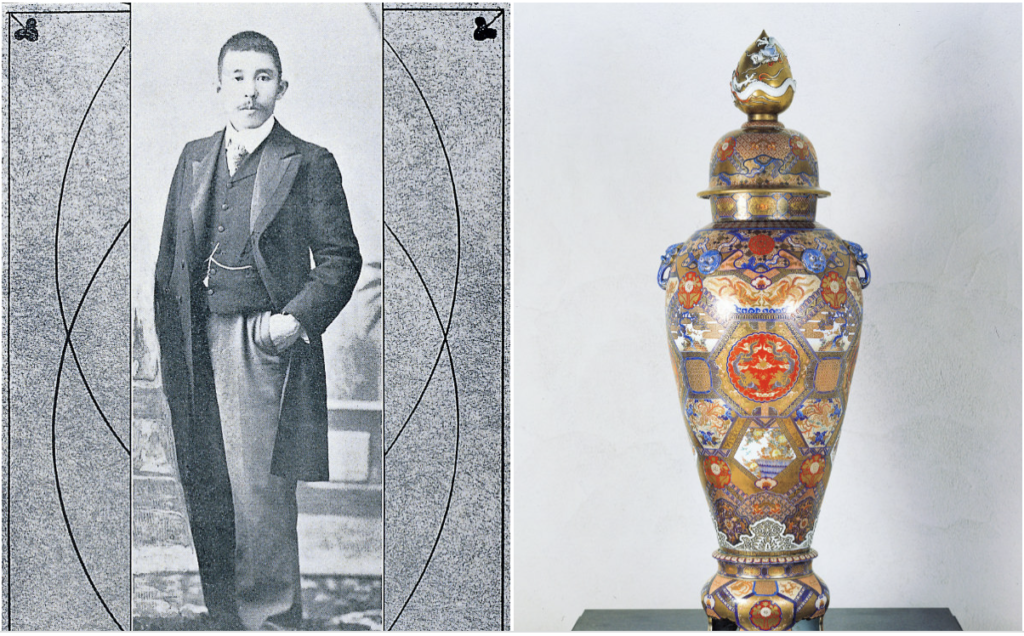 ©FUKAGAWA SEIJI, Chuji Fukagawa and his work, "Large Vase"
The Elegant, "FUKAGAWA BLUE"
The beauty by "Sometuke", which is a technique painting with cobalt-containing pigments on a white porcelain base, has made themselves well-known to the world. Especially, Chuji was particularly to making 2 colors, the white which porcelain was fired at a high temperature of 1,350℃, and the blue whose gradation was painted with a single brush called "Fukagawa Blue". His innovative design, which was distinctly different from the traditional Arita porcelain design styles such as Ko-Imari, Kakiemon, and Iro-Nabeshima, was highly acclaimed as the "Fukagawa Style".
Because of them, Fukagawa Seiji was commissioned by Emperor Meiji to provide tableware for his banquets, and in 1910 they were appointed as a purveyor to the Ministry of the Imperial Household, and since then, they have supplied tableware to the imperial court. Furthermore, they were also adopted as tableware used on first-class passenger ships of Nippon Yusen,  which Charles Chaplin and Einstein often boarded.
Their company logo, Fuji with running water, was created by Chuji to express their spirit to expand globally at the time of the company's founding. They have steadily built up results that is as well as their logo.
New Bland, "Hand to Hand"
The "Hand to Hand", called "TE-TO-TE" in Japanese, is a new bland with a "minimal" concept that is designed with extreme simplicity by the technology and wisdom cultivated over the history of FUKAGAWA SEIJI. This bland designed by Yuki Uchiyama, a food creator,  and directed by Shinya Kushino, a fashion designer,  manages to fit modern dining tables with their 3 lines.
The first line is the "Mayu" made of white porcelain, the second one is the "Hisui" made of blue porcelain, and the third is the "Tsunagu" painted by FUKAGAWA BLUE. Each of these has wide variations of products which have cups, plates, and teapots, and all of them have the following three distinctive features.
The first feature is the "Kaneru", which means multiple use. The small plate can be used as a saucer, and the oval one used as a large plate to organize many dishes or a tray. The second one is the "Kasaneru" which means good stacking. This allows for more tableware to be stored in a smaller storage space. The final is the "Awaseru" which means a lot of combination. They can be freely combined and also go well with existing tableware because of their simple design.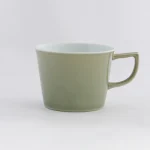 FUKAGAWA SEIJI TE-TO-TE
Type: Teaware Hand to Hand series
Manufacturer: Fukagawa Seiji
Availability: TOMO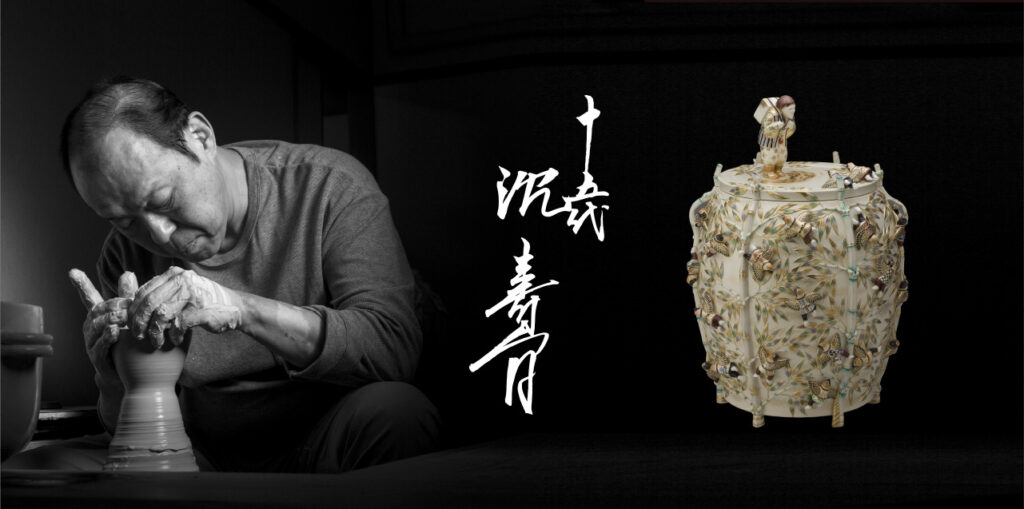 Chin started in 16th Century Korea
Chin Jukan is the name of a Satsuma-ware potter and in the 15th generation of Chin Pottery. Although their roots were in Korea, the beginning of their history in Japan was not a positive one.
In 1598,  Chin Tokichi, The first generation of the Chin Pottery family, came to Japan from Gyeongsangbuk-do, Korea, or rather, he was brought as one of the craftmen by Yoshihiro Shimazu, who was the lord of the Satsuma clan and had gone there on the order of Hideyoshi Toyotomi, the shogunate of Japan at that time. As their way of life in the unfamiliar land of Satsuma, they had to use their skills, pottery making, camphor manufacturing, beekeeping, civil engineering and surveying, medicine, embroidery, tile manufacturing, cotton cultivation, etc.
During the Edo period, the Shimazu family, the lords of the Satsuma domain, treated these Korean craftmen with great hospitality, granting them samurai rank, allowing them to build gates and walls, but forbidding them to change their family names and ordering them to maintain the Korean language and customs. In such environment, their potters sought raw materials for pottery in the mountains and fields of there, and eventually produced beautiful pottery called Satsuma ware, in Japanese Satsuma-Yaki, which bears the name of the domain.
The White Satsuma with the Beauty of Cracks
The Satsuma ware has two types mainly, the Black Satsuma and the White Satsuma. The former, as its name says, is black-fired porcelain and pottery, featured by its shiny black surface with luxury, because they use iron-rich soil around Mt.Sakurajima, an active volcano in Kagoshima, as law material. Also, they are so simple with few painted and decorated that are suitable for daily use.
On the contrary, the white Satsuma is the pottery fired white, which finish is achieved by using a type of silicate mineral called kaolinite. Its greatest feature is that its white surface has some fine cracks, which can make itself more beautiful. This crack pattern is called a "Kannyu" in Japanese and is made of the difference in shrinkage rates of the kaolinite and the glaze. Cracks would lead other types of pottery to failure, but they can lead the white Satsuma to so more beautiful and luxury ones.
Abroad with Nishikite Painting
At the 1873 Vienna Expo, in which the Japanese government officially participated in a World Expo for the first time, a 180cm length large vase made by the 12th Chin Jukan was exhibited in the ceramics craft field. This work was highly acclaimed, and since then, the Satsuma ware has become widely known throughout the world. Especially, the unique technique of painting called Satsuma Nishikite was well acclaimed in western.
In general potteries, the Nishikite technique refers to white-glazed ceramics with patterns painted in transparent glazes of green, yellow, purple, blue, etc., with a base color of opaque red, but the Satsuma ware has called them the "Iroe" (in English "Color Painting"), and they have called the Iroe with painting Gold "Nishikite" by distinction.
These gorgeous and delicate white Satsuma potteries with gold painting had captivated a lot of influential people, and the 12th Chin Jukan was very special among them. His works won the bronze award at the 1900 Paris Exhibition, the silver one at the 1904 St. Louis', and the gold at the 1904 Hanoi Oriental Countries'. The Satsuma ware donated to Czar Nicholas II and now housed in the Hermitage Museum is also one of his great works.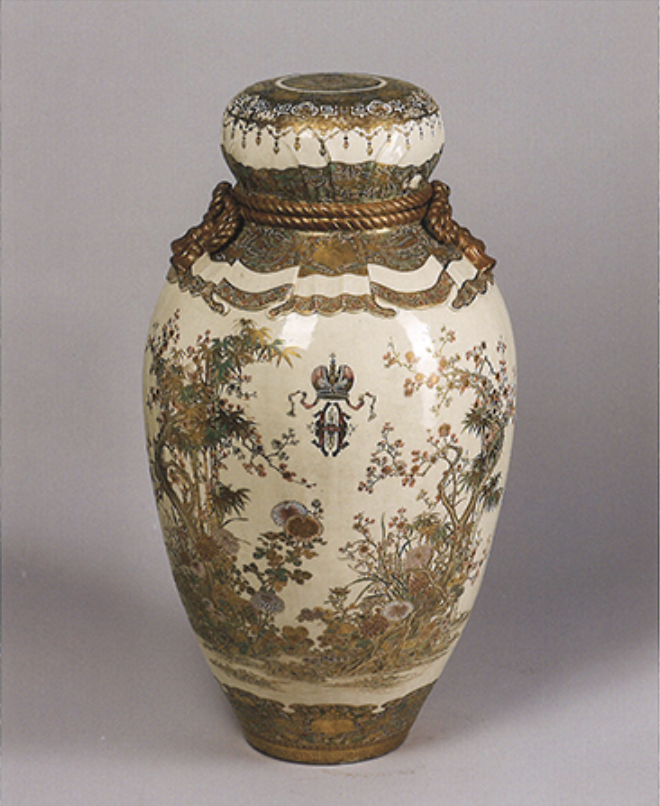 © The State Hermitage Museum,St.P=etersburg,2018/Alexander Koksharov
The Chrysanthemum Stand (Kiku-Ashi) Series
Since the 12th Chin, all of his successors have taken the name "Chin Jukan", and now the 15th is running the Chin Jukan Kiln. Among the products sold currently, what has inherited the nishikite that made the Sastuma ware known around the world, is the Chrysanthemum Stand Series(in Japanese "Kiku-Ashi"), which has cup and sauces or plates.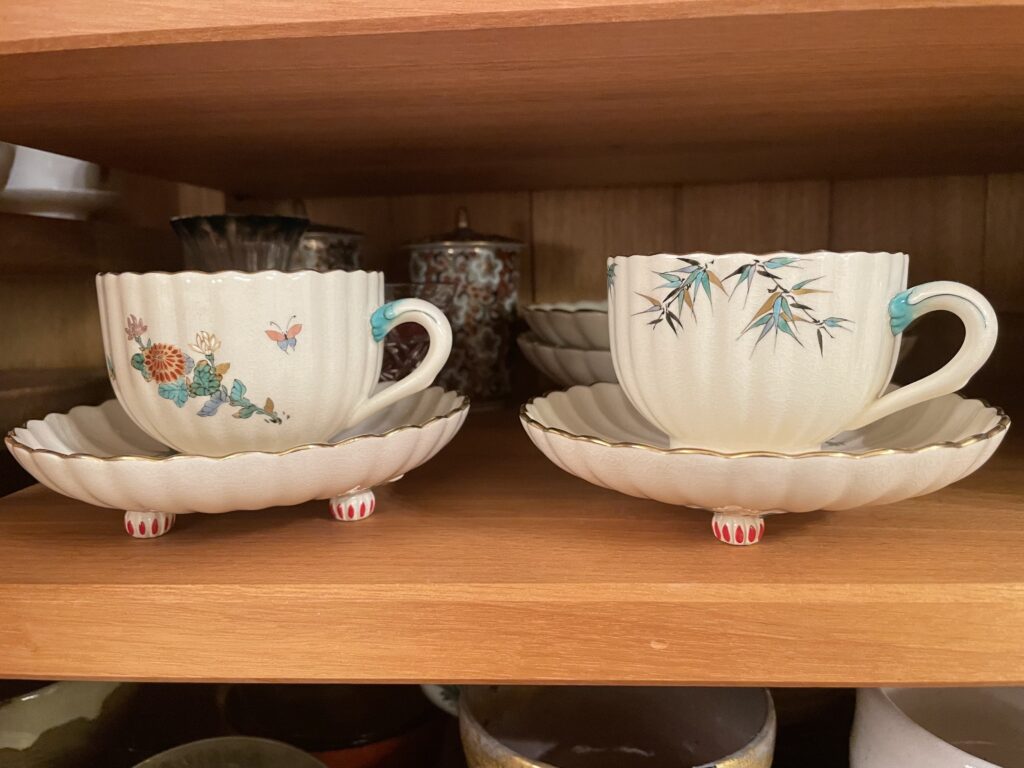 This series is a rare product in Japan today with the Nishikite traditional painting on the white satsuma. Bamboo grass leaves and chrysanthemums painted in vivid colors are extremely delicate, and three legs are so featured that give themselves stability.
Western Tableware: Okura Art China
©Okura Art China, Mt.Fuji Dinner Set
Okura's Ambition to Create Beautiful Western Tableware
Japan in the second half of the 19th century had a rapid expansion of exchanges with the West due to the transition from their national isolation to opening. Then, Magobei Okura, who had made his fortune through the sale of paper and publishment, participated in the Morimura-Gumi, run by trader Ichizaemon Morimura, where they had exported lacquerware, ceramics, and other Japanese antiques to the U.S.
Especially, these Japanese old products were perceived as very strange in New York, where all of them were sold out quickly. They had expanded their business by running around the country to thrift stores, purchasing old products, and continuing to export them to N.Y. They gradually fixed new ceramics as their main product for export and began to do BTO, purchasing ceramic fabrics from Seto or Tajimi potteries, and painting them in Tokyo or Nagoya.
However, they felt that these products were inferior to Western's and would eventually lose out to the international competition. Therefore, they tried to make various attempts, such as arranging the painting design from Japanese to Western styles, but these did not easily conform to the tastes of customers.
At that time, Magobei's son, Kazuchika Okura, joined Morimura Gumi. He gave up on old manufacturing methods and sought to adopt Western's. By visiting Germany and Austria and receiving a variety of guidance, he succeeded in finding a manufacturing method suitable for the raw materials available in Japan, and took this opportunity to establish a ceramics manufacturing company, which is now Noritake.
After that, he expanded his business to include insulators, spark plugs, and sanitary ware with great success throughout his life. However, in his prime, he began producing other ceramics again as if going back to his starting point. This was the foundation of Okura Art China with his own private funds in 1919.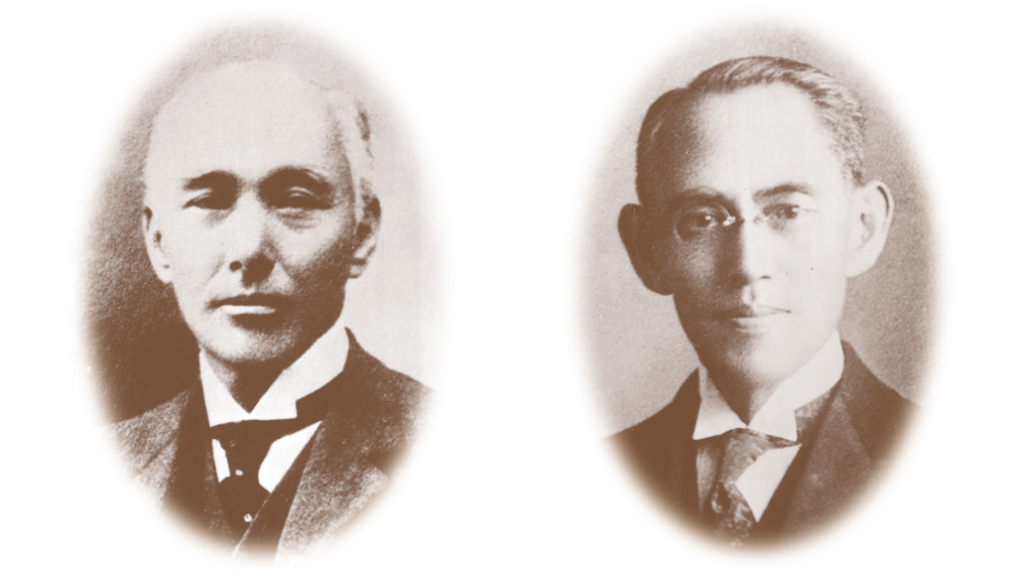 ©Okura Art China, Left:Magobei, Right:Kazuchika
"Sevres Blue, Okura White"
It all began with Magobei's great passion to create the finest art ceramics and porcelain. Despite their great success as Western tableware manufacturers, they were not satisfied with that. At the company's establishment, Magobei wrote the following:
"We don't expect to make a profit in this business. As our hobby, we want to make good over good and better than English Bone china, Serves, or Ginori."
They established 4 main goals for utilitarian tableware as below:
– Aesthetically pleasing
– Cleanliness
– Suitable for the purpose for which it is used
– Solidity
Because of them, their primary concerns for these goals were "Whiteness" and "Hardness", for which they had established various techniques such as the finest kaolin mixed with feldspar and silica rock for raw materials and high temperature firing at 1,460℃ that they are doing only.
In 1922, 3 years after their establishment, the first product was completed with the desired combination of whiteness, hardness, and smoothness, and their Okura White has been ever admired alongside Serves Blue.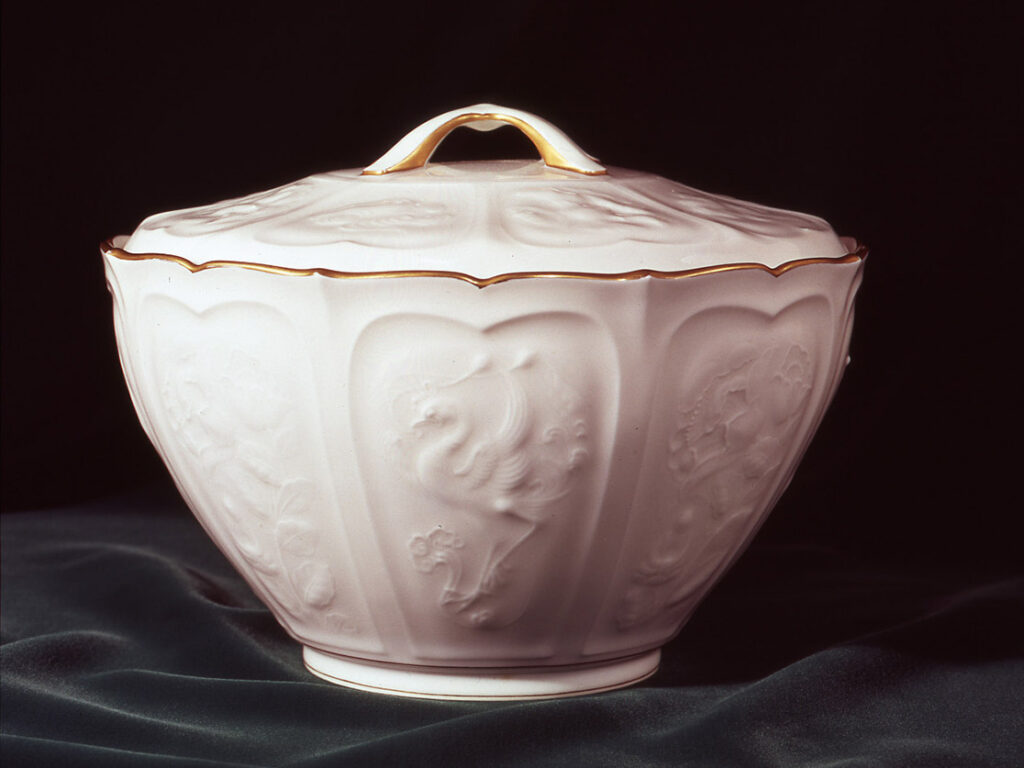 ©Okura Art China, the First "白磁薄肉彫蓋付菓子鉢"
Okura has spent working to maintain their white and various decorative techniques more than 100 years.
One of them is a dyeing method called "Okazome", which is that white fabric once fired is painted by cobalt and re-fired at 1,460℃. This allows the cobalt blue to softly merge with the glaze, creating a beautiful pattern with depth and tenderness. In addition, the handles and rims are individually hand-painted in gold with a brush.
A masterpiece of this technique is the "Blue Rose", which depicts vigorous roses and supple vines. This design is synonymous with Okura Art China and has remained a favorite since born in 1928. At that time, it was impossible to make a blue rose bloom naturally. The Blue Rose has designed the miracle to the present day, with the beauty of azure blue.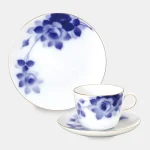 OKURA ART CHINA BLUE ROSE
Type: Tea Cup & Saucer
Manufacturer: Okura Art China
Price: $228
Availability: BECOS