Aggretsuko is so popular on Netflix, now. This anime, which shows cute Sanrio animal characters, actually asks questions about social issues. If you know any young people who are tired of their social life, please recommend this.
#2: Young Generation Giving Up on Society
Internet Cafe Refugees Possible Only in Japan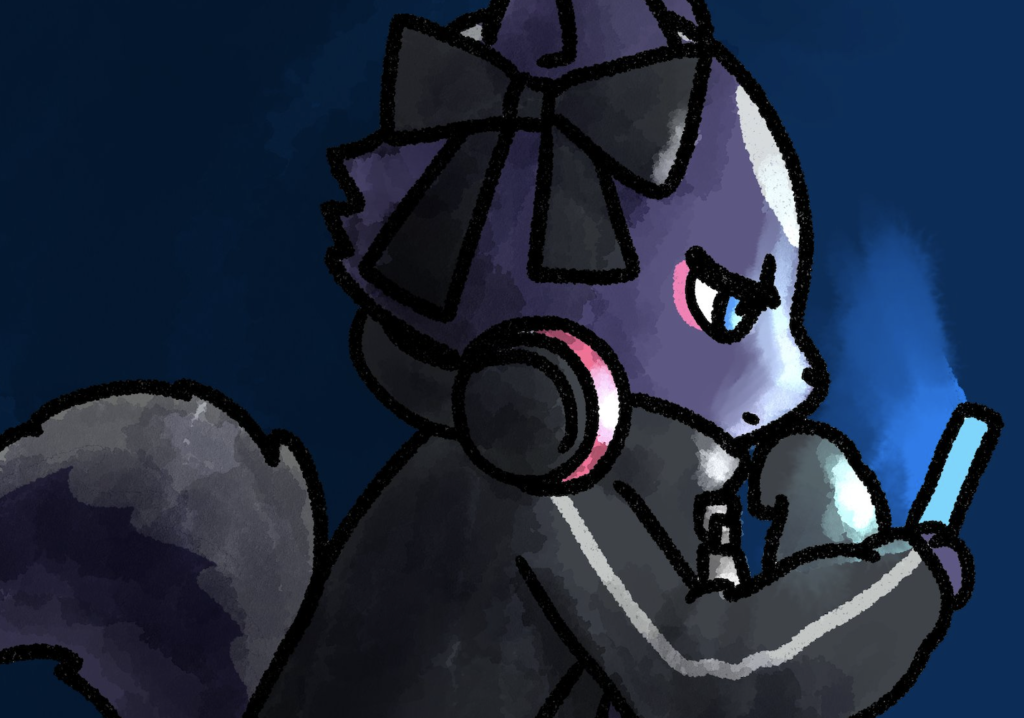 Shikabane, ©twitter @retsuko_sanrio
A key player named "Shikabane" appears at the end of this story. She is a young person living in an internet cafe, which is one of the unique cultures in Japan. In this cafe, you can do follows:
– Unlimited Internet access
– Unlimited reading of comics and magazines
– Unlimited drinking
– Possible to choose from various seats
In addition to these, there are also that offer karaoke, darts, billiards, table tennis, and other amusements, and they are available 24 hours a day. There are more than 1,000 such cafes in Japan, which have succeeded in attracting people who want to read comics they cannot normally read, people who want a space alone, and people who want to stay instead of hotels.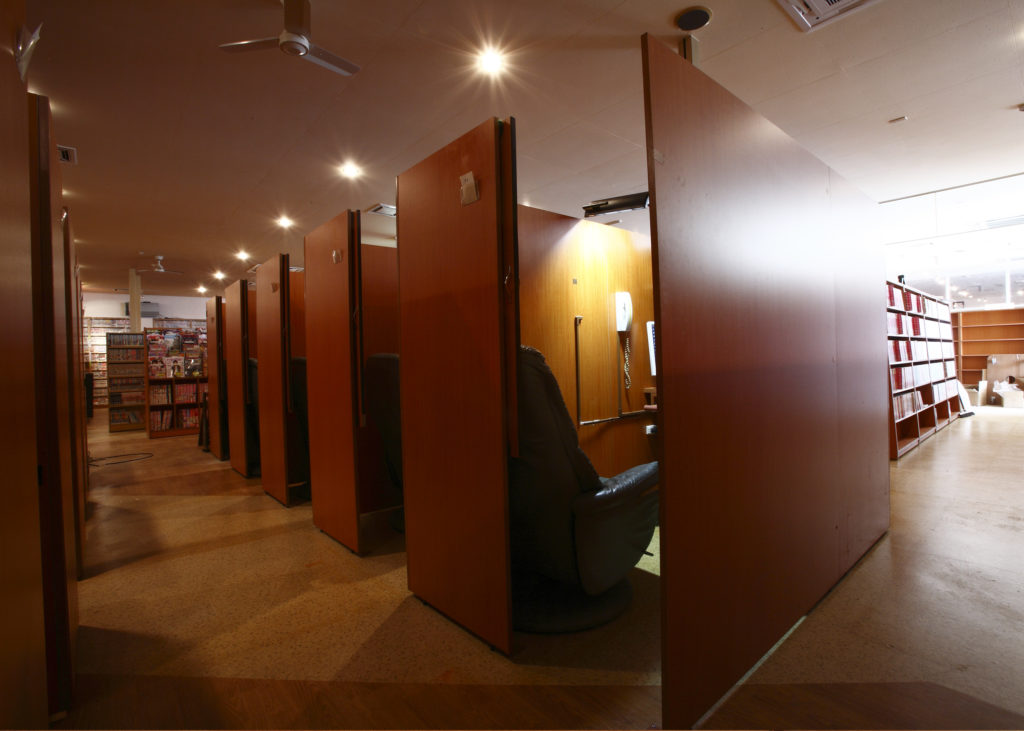 However, they have also attracted people who have no other place to live. In details more, they have little money to live in any house or no place at work or school, and they are called "Internet Cafe Refugees". Once these refugees, it is quite difficult for them to escape from this on their own.
In fact, they are protected by a high-level security, because no other country is as safe and clean as Japan in public spaces, which have internet cafes, convenience stores, public toilets and bathes. Of course, their use require some money. They are who originally lost stable income. So, they have to be immersed in earning even more daily income. This further may prevent them from escaping from the refugees, and lure young people into crimes such as theft and prostitution.
As a side note, "Shikabane" means a Zombie.
If this were happening in the U.S., they would not feel safe sleeping there. If in France, they would make demonstrations. But in Japan, there is. Some of them give up their escape from such refugees and justify themselves, by saying that there would be no chance for them to change the world if they did anything.
What this trend is correct has been proven by the statistical data. According to the Nippon Foundation's 2019 survey of age around 18s consciousness toward society and the state, Japan ranked last in all categories among nine countries, which had India, Indonesia, South Korea, Vietnam, China, the UK, the U.S., Germany, and Japan.
The survey consisted of the following 6 questions:
(1) Do you consider yourself an adult?
(2) Do you consider yourself a responsible member of society?
(3) Do you have dreams for the future?
(4) Do you think you can change your society or nation by yourself?
(5) Are there any social issues you want to solve in your country?
(6) Do you actively discuss these social issues with your family, friends, and others?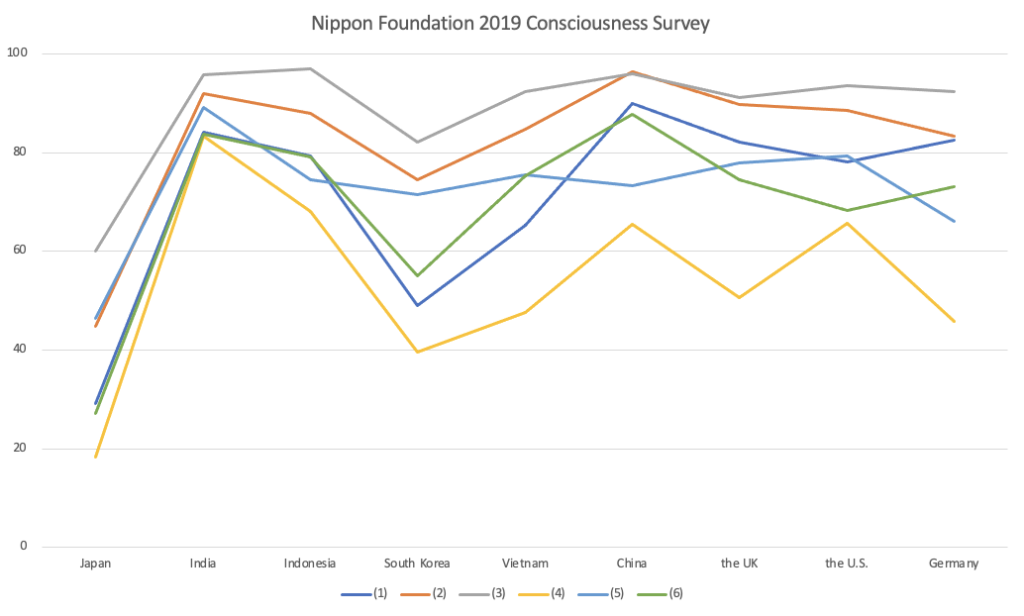 This figure shows that citizens of nations with rapidly growing populations and industries are more interested and hopeful about their society than ones of mature nations, such as advanced countries, in which the points of Japanese nations are abnormally low.
What is caused by?  It may be influenced by a new groupism that has been expanding in Japanese young generations. The original groupism is defined as individuals belonging to a group psychologically and giving priority to the goals and interests of the group. The opposite is individualism, which is their giving priority to themselves.
However, the new groupism in Japan is based on peer pressure. In this case, individuals cannot psychologically choose the group, which is like the schools in compulsory education, or the major thoughts and actions around them. Under this condition, they are dominated by that they must be connected to the group rather than want to contribute to it.
Are there who have come to Japan after COVID-19? If coming, you will see many Japanese mouths covered by white masks yet. You would doubt if Japan has laws that all have to wear masks, but this is not the case. This scene is nothing more than peer pressure that they have to follow if others are wearing masks.
This pressure has acted in a variety of situations, not just masks in the COVID-19 pandemic, and forced the individuals to follow the group's thought, so the individuals' thought has no meaning. This tendency forces the individuals to stop thinking, and instead, provides the stability of the group. Eventually, individuals will seek strong connections within the group.
Shikabane had to choose to stay in stability at the lowest level, as living in an Internet cafe.
The "Osekkai" is the Essence of "Hero"
However, the end of this anime provided an incredible scene, in which Shikabane was trying to escape from her refugee. What changed her behavior from such her resignation to the world? This is because a hero and a heroine gave her help, against which she would want to say, "Mind your own business". Such help is called "Osekkai" in Japanese. This is about too much helping or taking care of people self-righteously.
Everyone, please remember. Weren't heroes around you in the real or the fiction,  "Osekkai"? Basically, some of them have a style that they judge whether good or evil instantly, and whether protect the former or remove the latter. In this case, it is the most important to be judged instantly. When people have more time to think, they are able to analyze and deal with issues calmly. But if not allowed to have time, they lose the ability to make calm decisions to solve them.
During recent decades in Japan, the general public has been damaged by a special fraud which is a type of crime in which scammers get money from the general public by contacting them through telephone or e-mails without meeting and tricking them psychologically. Scammers attack victims without giving them any time to think calmly, so it is easy for victims to panic, be short of calm, and be fleeced by their money.
If you were to see someone panic like this, what would you do? Most people would not want to get involved with that person. However, if there were who is interested in surround and brave, he would judge that the person is in a panic about facing something fraud and deal with it politely.
In fact, it might be easy for us to help these people, because they never want their pessimistic situation. On the contrary, it will be so difficult to help the refugees like Shikabane, because they hope would be at the stable bottom, rather than where their hard work isn't rewarded.
Probably, the writer of this anime would be fearing many of Japan's young people being at the stable bottom. Aggressive Retsuko, the protagonist of this story, had been originally incapable of resolving issues on her own initiative. However, as this story progresses, supported by many chance encounters, she comes to solve various issues and save people of her own will.
Something about seeing her grow is exciting us to watch this anime, as if it offers us a new image of a hero who is different from Superman or Spiderman.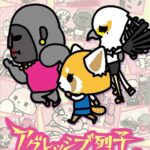 Aggressive Retsuko 2
Product type: DVD
Availability: CDJapan