Japan, with its long north-south axis, four seasons, and being surrounded by the sea, has a diverse food culture rooted in its rich climate, people's spirituality, and history, while skillfully accepting cultures from other countries.
Japan's food culture is characterized by the delicate beauty of its dishes, the beautiful presentation of its food, its hospitality, and its cooking techniques that accentuate the flavor of its food.
Manga and Animation depicting this Japanese food culture have gradually emerged since the 1980s and have grown to become important content in Japanese animation.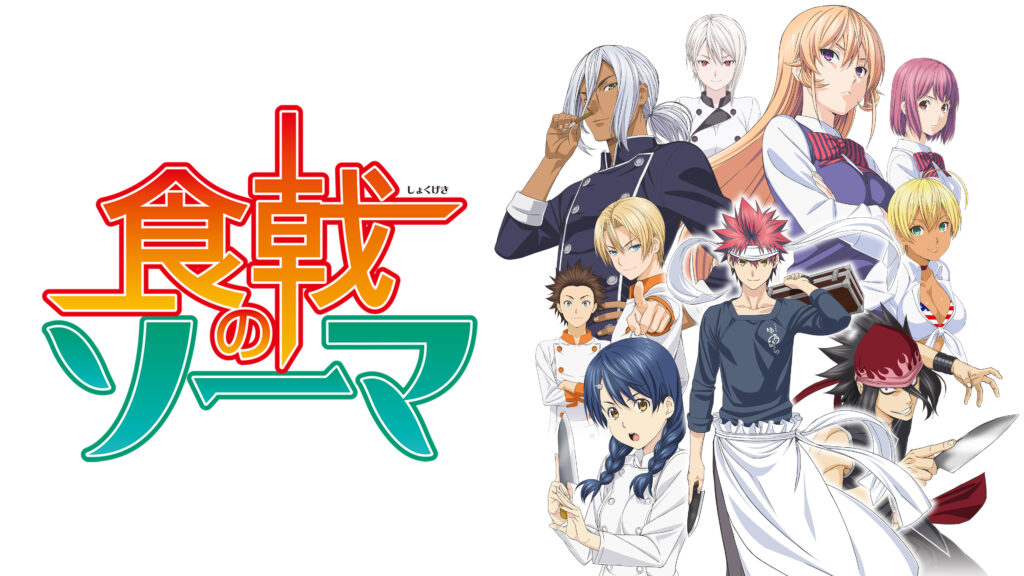 Yukihira Soma who has been refining his culinary skills while helping his father's diner "Yukihira" enters an elite culinary academy called "TotsukiSaryo Culinary Institute".
As he meets fellow chefs and continues growing as a professional, he has started to pursue "his spécialité".
Soma stands against the Elite Ten members during Totsuki's annual event called The Moon Festival. Behind all the festivity, Erina's father Azami pulls strings from behind and establishes Central Gourmet Organization, which only allows students to cook from the approved recipes. Soma cannot accept Azami's regime and decide to fight back.
On top of that, the Advancement Exam, one of Totsuki's most challenging events was approaching…
Another battle was about to break out in the North.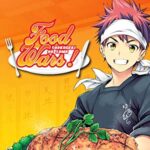 Food Wars!: Shokugeki no Soma
Media Type: Kindle & ComiXology
Author: Yuto Tsukuda
Language: English
Availability: Amazon(US), Amazon(UK)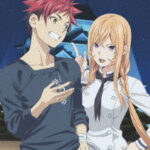 Food Wars!: Shokugeki no Soma
Media Type: Blu-ray Box
Author: Yuto Tsukuda
Language: Japanese
Availability: CDJapan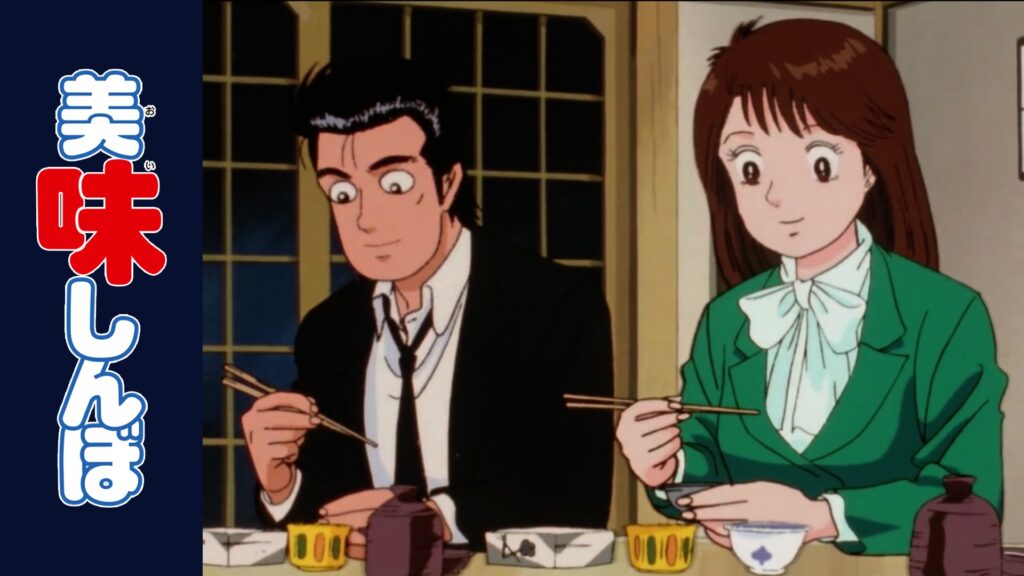 The main characters are Shiro Yamaoka and Yuko Kurita, employees of the cultural department of the Tozai Shimbun, who solve the problems of various people through food by creating the "ultimate menu. The realistic portrayal of the characters, which had never been seen in cooking manga before, was well received, and the series was developed into various media such as TV animation, TV dramas, and movies, contributing to the revitalization of gourmet manga and the gourmet boom in Japan.
Shiro Yamaoka and Yuko Kurita, both reporters from the culture department of the Tozai Shimbun, pass a taste test and are assigned to create the "ultimate menu" for the company's 100th anniversary. Although the pairing of Shiro, who was a lugubrious reporter in the culture department, and Yuko, a rookie reporter, was viewed with apprehension, Shiro's keen sense of taste, extensive knowledge, and excellent cooking skills enabled him to solve various problems through food, and the two gained the trust of those around them.
However, after an encounter with gourmet chef Yuzan Kaihara, who runs the Gastronomic Club, it is revealed that Shiro is Yuzan's real son. The father and son have been insulated from each other due to a feud over the death of their mother, and whenever they meet by chance, they end up cooking each other's food in a battle of wills.
Eventually, in order to compete with the "Ultimate Menu," a rival newspaper, the Teito Shimbun, launches a project called the "Supreme Menu" under the supervision of Yuyama, and it is decided that the "Ultimate" and "Supreme" dishes will be announced simultaneously on a regular basis in the weekly Time magazine. The project was effectively a cooking competition between the "ultimate" and the "supreme," and a father-son confrontation through cooking. However, Yuko realizes that the cause of the father-son feud is Shiro's misunderstanding, based on Yuzan's attitude and the comments of people who know about their past and begin to try to repair their relationship.
Shiro, Yuko, and others begin to accompany the Tozai Graph magazine on its "World Taste Tour" project, and their activities expand both domestically and internationally. Among the people involved in this project, there are suitors for both Shiro and Yuko, but at the same time, they realize that they are attracted to each other. However, due to the trauma of his mother's death, Shiro is unable to take the plunge into marriage.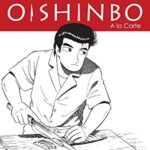 Oishinbo
Media Type: Kindle & ComiXology
Author: Tetsu Kariya
Language: English
Availability: Amazon(US)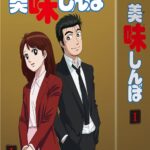 Oishinbo
Media Type: Blu-ray Box
Author: Tetsu Kariya
Language: Japanese
Availability: CDJapan

#3: Restaurant to Another World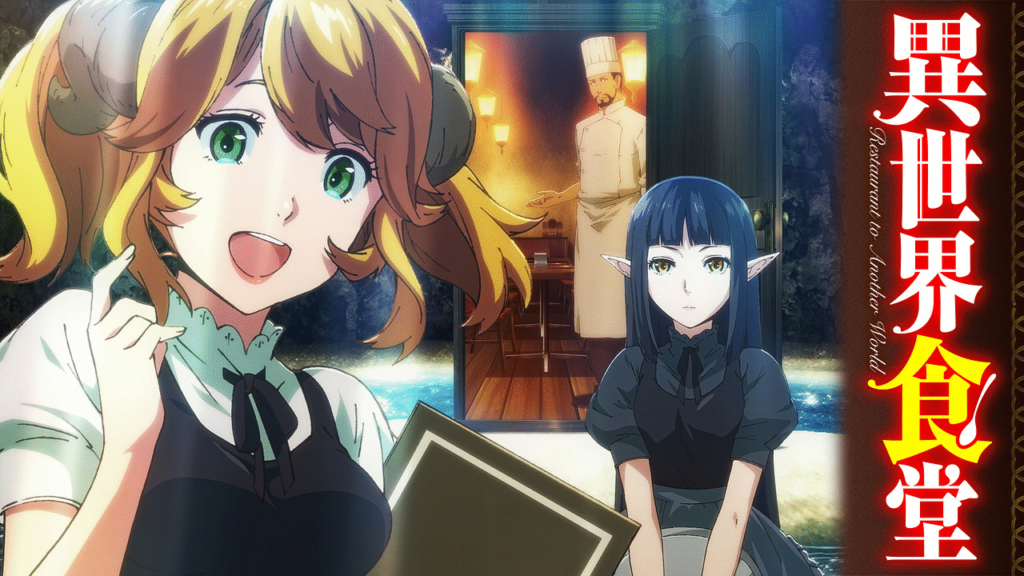 The signboard with a picture of a cat on it is the landmark of "Western-style restaurant Nekoya," which is located on the basement floor of a miscellaneous building in a corner of a shopping arcade near the office district. The door of this Western-style restaurant, which looks like it could be anywhere, opens to the "other world" only once a week on a "special business" Saturday. Through the doors that appear in various places in the other world, customers from "Another world," who are from different cultures and even races, come to this "Another world diner," where the food has a mysterious "charm" that tantalizes their taste buds. This is a story of warm encounters between the Another world and the present, the people who gather at the restaurant, the owner, and the food.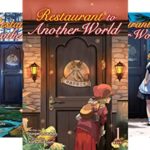 Restaurant to Another World
Media Type: Kindle & ComiXology
Author: Junpei Inuzuka, Illustrator: Katsumi Inami
Language: English
Availability: Amazon(US), Amazon(UK)
#4: What did you eat yesterday?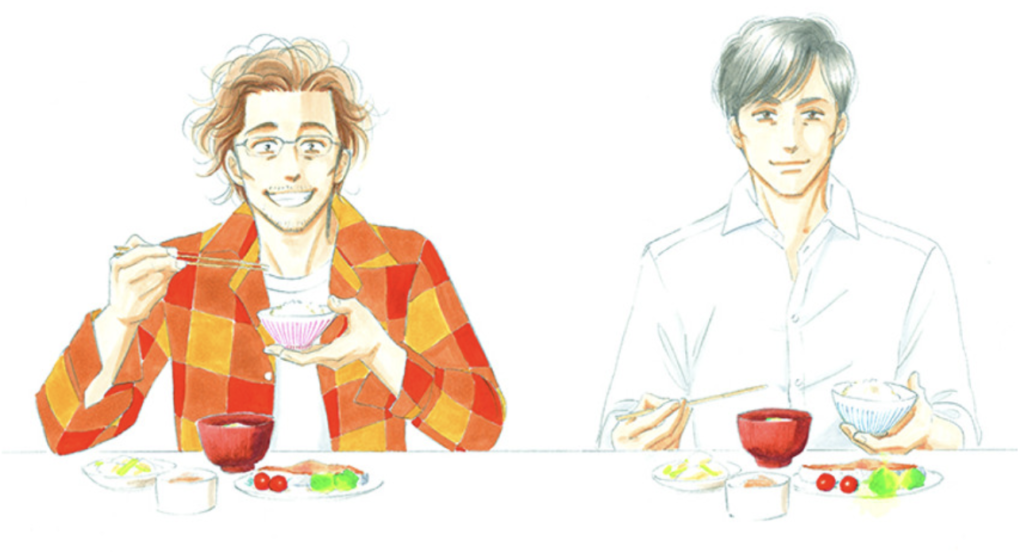 "Shiro-San" (Shiro Kakei) and "Kenji" (Kenji Yabuki) are a couple who live together in Shiro's room.
Shiro, who works as a lawyer while hiding his gayness, is a modest, stoic, and thrifty man, but despite his masculine appearance, he is also indecisive. He aims to keep the cost of food for the two of them to 25,000 yen (later 30,000 yen) per month as a way of managing the household budget for the future, but he also takes pleasure in making meals for the two of them even though he has to leave work on time to a minimum.
On the other hand, Kenji, who works as a hairdresser without hiding the fact that he is gay, is a romantic who is single-mindedly devoted to his "love," but contrary to his appearance, he is also strict with himself.
The story weaves a tale of two such people who, while facing their differences in values and the conflicts that come with being a gay couple, confirm the meaning of being together and deepen their bond through "food".
The story is characterized by the fact that Shiro spends quite a few pages each time in the cooking scenes, which are closely related to the main storyline. The cooking scenes are almost as detailed as the recipes in the book, with advice on what to substitute for ingredients and seasonings. The book also includes recipes for the dishes that appeared in the work.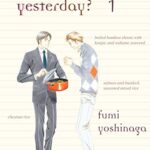 What did you eat yesterday?
Media Type: Kindle & ComiXology
Author: Fumi Yoshinaga
Language: English
Availability: Amazon(US), Amazon(UK)
#5: Ms. Koizumi Loves Ramen Noodles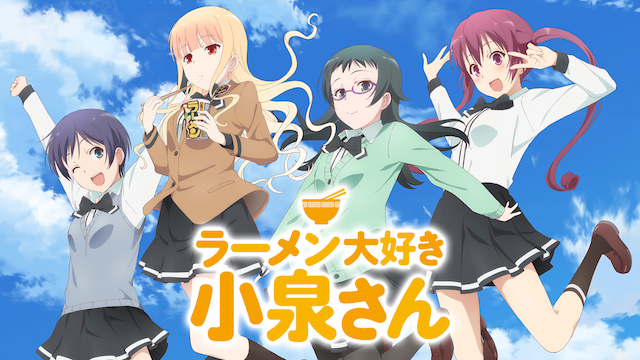 Ms. Koizumi transfers to the class of Yu Osawa, a high school girl. Ms. Koizumi is quiet and mysterious, but in fact she is a ramen fanatic who seeks out the best ramen every day. The story is set in the Kanto metropolitan area near Tokyo, and the setting is that "Osaka is too far away to go, but Tokyo can be reached.
Describing Japan's Ramen Culture
There are over 20,000 ramen stores in Japan, and every convenience store and supermarket sells cup noodles, making it a ramen paradise. In this anime, ramen stores that actually exist, mainly in the Tokyo area, are introduced and conveyed by an unusual combination of high school girls who love ramen.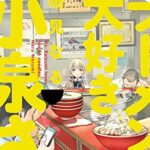 Ms. Koizumi Loves Ramen Noodles
Media Type: Kindle & ComiXology
Author: Naru Narumi
Language: English
Availability: Amazon(US)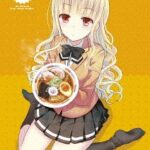 Ms. Koizumi Loves Ramen Noodles
Media Type: Blu-ray
Author: Naru Narumi
Language: Japanese
Availability: CDJapan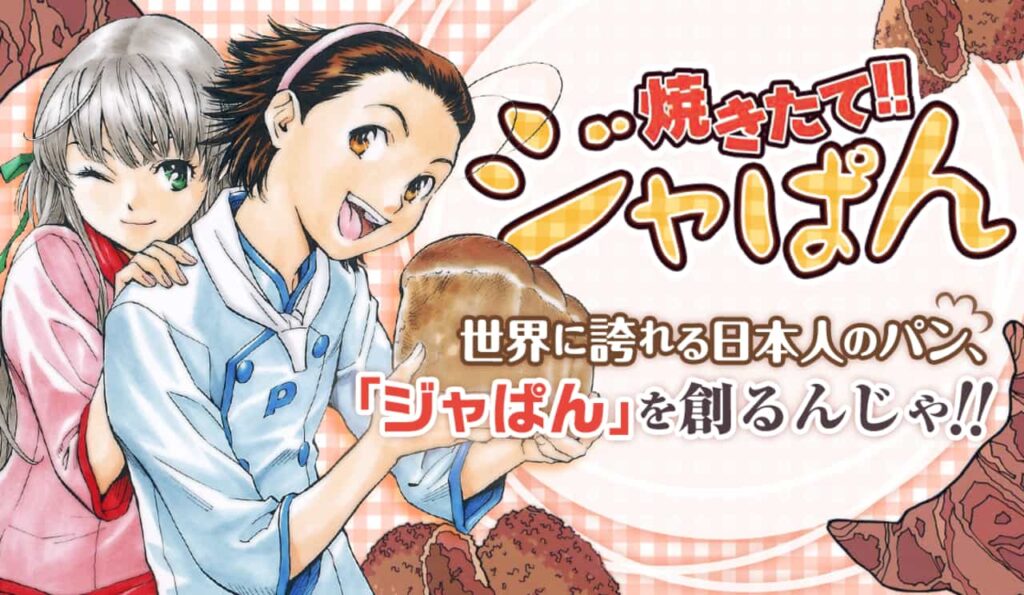 Kazuma Higashi, who was originally a rice eater, fell in love with bread at the age of six. The reason for this was because of the exceptionally delicious bread he ate at St. Pierre, a bakery in his neighborhood. The owner of St. Pierre's dream was to create a Japanese bread(Pan) that Japan could be proud to show off to the world, "Ja-Pan". There are many breads in the world named after their country, such as French, English, and German breads, but none in Japan. So the owner wanted to create a Japanese bread that would be loved all over the world. After training in France, he tries to make the bread in his hometown, but it doesn't work out, so he decides to come to Tokyo. Kazuma also became obsessed with baking bread, trying to realize his will on his own.
Ten years later, after graduating from junior high school, Kazuma was hired by Pantasia, one of the most famous bakery stores in Tokyo, and moved to Tokyo with high hopes. When Kazuma arrived in Tokyo, he immediately went to work at Pantasia. However, he was mistaken in thinking that he had been hired, and the job offer was only valid for one day. What awaited Kazuma was a rigorous employment examination, in which only one out of 35 candidates would be hired.
Will Kazuma be able to become an official store clerk at Pantasia?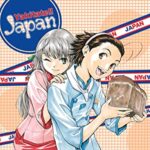 Yakitate!! Japan
Media Type: Kindle & ComiXology
Author: Takashi Hashiguchi
Language: English
Availability: Amazon(US)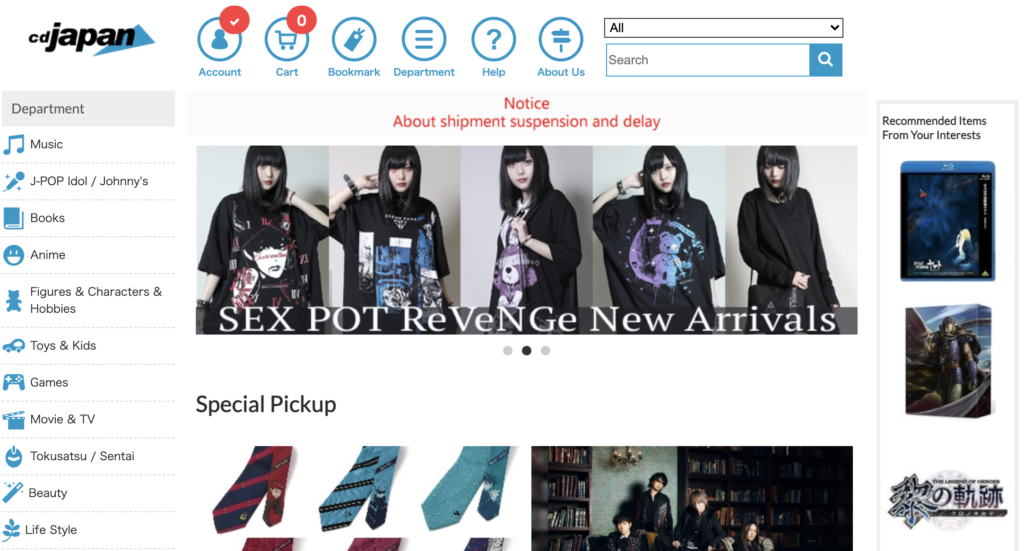 We recommend "CDJapan" to our Customers who are looking for Japanese entertainment. for over 20 years, CDjapan has been selling CDs, DVDs, Blu-ray, figures/good characters, plastic models, books, magazines, video games, Japanese crafts, etc., mainly released in Japan.
They are a company that constantly works with key suppliers to ensure that information about their products, including inventory information, is always comprehensive and reliable.
Therefore, we believe that you will have a safe, convenient, and enjoyable shopping experience with CDJapan.